Safety & Health management
Heesung Chemical considers safety and hygiene as an important value of corporate management and modernized safety equipment and systems to prevent personal and property loss and through autonomous management standards stricter than legal requirements conducts periodic inspection and continuous improvement activity, and also participates actively in activities to prevent local society safety problems.
Health management activity
By conducting exposure potential and exposure amount evaluation by hazardous factor treatment processing, the company is preventing disease through pleasant work environment.
Product safety management
In order to take social responsibility and build customers' trust, from production to disposal, every step is evaluated internally and regularly. Also the product safety management is developing further and related information is provided to customers. Through periodic internal evaluation, supplementation and development is being done.
Safety inspection
A pre-start up audit inspection removes punch items in advance. By safety inspectors from local and foreign experts & insurance company, advanced technology and system has been set and appoint position in charge of environment safety at worksite for internal inspection.
Prevention of environmental safety accident
For prevention of environmental safety accident and continuous improvement, periodical internal audit (in-house professional staff) and external audit (certification authority) is implemented and set object of priority control, based on the audit result and use it for prevention of accidents.
Emergency response training
Preparation and training emergency scenario for every expected emergency situation so that quick initial response can be possible under any emergency circumstances.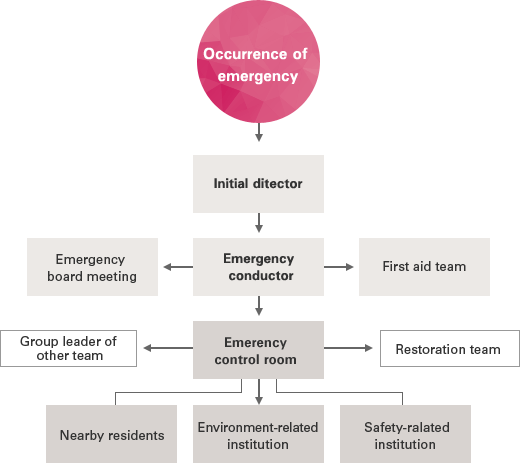 Risk assessment system
Facility safety is acquired through risk assessment and safe work environment and consensus is created through preventing similar and identical disasters. Risk assessment is conducted every year to realize an accident-free plant.
Employee health examination system
Heesung Chemical is conducting periodic health screening for improvement of employee health and supports periodic screening fund for employees over the age of 40 and their spouses. Personal data management and prevention methods are continuously conducted and practice status is confirmed and managed.